Sharing our new Dining Room tree with you today. You might remember that I previously shared photos of last year's tree, which was a table top tree with a "
sugared fruits
" theme. I have been imagining a full height but slim tree in this corner of the dining room for quite a few years, and now it's here!
Because I don't have enough sugared fruits elements to decorate this newer, bigger tree, and I couldn't find any more elements to match, I changed up the theme a bit. I'm going for a rich green, brown and cream feel. I picked up a couple boxes of new ornaments at Michael's to tie things together, and some new ribbons.
From start to finish, here is the metamorphosis of the Dining Room tree. First, straight out of the box pre-lit with white lights.
I added two strands of green lights to get the theme started.
Next came the star topper. Just simple and pretty.
I had three different ribbons to choose from.
Next I put in some cream and gold glittery florals. These were bushes that I picked up at Michael's and cut the stems apart to spread around.
Now time for ornaments. Some of these are new purchases this year, and some are taken out of my ever-growing stash of ornaments. I did put in the sugared fruits from the past few years, but they turned out to be fairly insignificant in scale and importance. I think they add a small detail, but wouldn't call them a "theme" anymore.
Finally, I added a tree skirt and my family of gold-tone deer. The tree skirt was made by my mom about 20 years ago, when my husband and I were just starting out and we had a more Victorian-themed tree. We still have all of those original ornaments and use them on our family room tree as keepsakes.
Merry Christmas, everyone!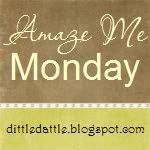 Linking up to Domestically Speaking's Countdown to Christmas Party.
Linking up to Thrifty Decor Chick's Christmas Tree Party.